Cruising through the vast stretches of deep blue water is everyone's fantasy. And when it is combined with a stay on a luxurious ship, it becomes even more exciting. With our Thailand cruise deals, wake up to the soothing sound of ocean waves, sail across the sea and hop from one fascinating coastal city to another. With a number of on-board leisure activities at disposal amidst spectacular sea views, our Thailand cruise package is surely going to fulfill your dreams and imaginations. The experience will be so fun-filled that you will want to re-live the moment time and again.
Thailand "Cruise Tours" COLLECTION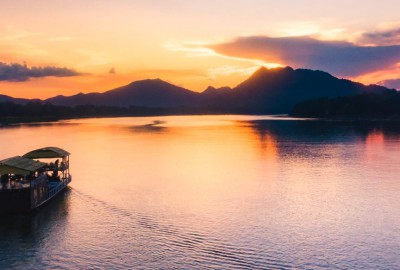 Mekong River Tour: 28-Day Following the Mighty Mother River
See why the Mekong River is known as Asia's lifeblood with this epic adventure. Trace the mighty River as it meanders through big cities and countryside towns through five countries. From the...
More
ACTIVITIES FOR "Cruise Tours" IN Thailand
Here is the list of activities for Thailand river cruise tour aiming for authenticity, moments to share and revitalization in Thailand
WHERE FOR "Cruise Tours" IN Thailand
Embark on an adventure that you'll never forget with one of our Thailand river cruises. This is your opportunity to experience the beauty of Thailand's landscapes in absolute style, enjoying all your creature comforts at the same time.
Check below our detailed recommendation for other Thailand travel themes and
what you can do based on the time frame you have
Thailand PLANS BY OTHER TRAVEL THEMES
Thailand PLANS BY TIME FRAME
Thailand TRAVEL TIPS & GUIDE
Either are you wondering about best time to visit, visa policy, or how to get the cheapest flight, we have your back!
WHAT MORE? Choose the country you plan to visit, then search for your nationality below to see our special travel tips & advice for your country. CONTACT US if you cannot find yours.
CHECK OUT OTHER DESTINATIONS
Visit Chao Phraya River
The Chao Phraya River, otherwise known as the River of Kings, is one of the most important waterways in Thailand. Some of the top attractions in the capital are found along its banks, and it is one of the major transportation hubs in the city. Whether visitors take to the river to enjoy a dinner cruise or hop on the Chao Phraya River Express Boat to explore Bangkok, there are many ways to explore this particular waterway.

1/6 Chao Phraya River - Bangkok
2/6 Chao Phraya River - Bangkok
3/6 Chao Phraya River - Bangkok
4/6 Chao Phraya River - Bangkok
5/6 Chao Phraya River - Bangkok
6/6 Chao Phraya River - Bangkok
Flyboard in Koh Samui
Flyboarding is the new extreme sport that gives you aqua superpowers. Strapping on a pair of tres chic jet boots and taking hold of the stabilisers you can flip and spin across Koh Samui's azure waters. It's a giggle a baht and an alternative way to explore the southern shores.
1/2 Flyboard in Koh Samui
2/2 Flyboard in Koh Samui
Go Diving off The Coast of Koh Lanta
Situated in the Andaman Sea, Koh Lanta is a beautiful island only 20km's in length. There are 17 dive shops on the island and some of the most beautiful diving in the world is to be had in the sea surrounding the island. Famous dive sites are Hin Daeng and Hin Muang, these are considered to be the best in the area
Go to a Full Moon Party
Legend has it that a group of tourists realized one day that the most beautiful view of the full moon was from the beach of Koh Phangan so they decided to hold a party. From that day on it became an institution. Today up to 30,000 revelers travel to the beaches of Koh Phangan to celebrate every full moon with a party. The parties are a riot of color, music and nonstop drinking that seems to last forever. When you need to take a break from the dancing you can take a rest in one of the surrounding bars or go for a swim in the warm Gulf of Thailand.
1/6 Full Moon Party in Koh Pha Ngan
2/6 Full Moon Party in Koh Pha Ngan
3/6 Full Moon Party in Koh Pha Ngan
4/6 Full Moon Party in Koh Pha Ngan
5/6 Full Moon Party in Koh Pha Ngan
6/6 Full Moon Party in Koh Pha Ngan
Visit Railay beach
Now on every savvy traveller's list, Railay is one of Thailand's most sought-after beach areas. Just south of Ao Nang Beach, around a rocky headland and accessible only by boat, Railay presents a tranquil and extraordinary world. In just one small peninsula you'll find gorgeous white sand beaches, soaring limestone cliffs, viewpoints, caves and a lagoon hidden inside the cliffs, shaped and fed by the changing tides. And all within walking distance!
The very picture of tropical paradise, with no roads and no hassle, Railay offers lazy days, adventure forays and chilled-out evenings
Take a trip to Koh Phi Phi
Shooting to fame after the Leonardo DiCaprio classic 'The Beach' as well as appearing in James Bond. Koh Phi Phi is a stunning island situated in the province of Krabi, this island is a must visit on any trip to Thailand. After visiting this staggeringly beautiful island no beach will ever feel as beautiful. The island has no roads so you will have to do a fair amount of walking but with everything happening between the two main beaches you will never be far from the hive of activity.
Visit Phang Nga Bay
Whilst visiting Phuket you must visit Phang Nga Bay, the bay houses in the region of 40 small islands that come straight out of the calm sea. There are so many caves, mangroves and lagoons to visit whilst you are here that you will never have enough time to see everything. The sea in this area is very quiet and the bay by its natural design is protected from many of the elements during the monsoon season meaning there is never a bad time to go. The best way to see as much as you can is to go with a local Thai tourist guide who will be able to point out the things you do not want to miss.