A Mekong River boat cruise provides families and solo travelers experiences to last a lifetime of memories. But before you go ahead and book your cruise to this fascinating place, there are first some things you should know:
Scenic Beauty
The Mekong River is known for its stunning natural beauty. As you cruise along the river, you'll be surrounded by the most postcard-worthy landscapes, picturesque rice paddies, and traditional riverside villages. The scenery changes as you travel through different countries, providing a diverse range of landscapes to enjoy.
Cultural Immersion
The Mekong River region is rich in culture and history. During your cruise, you'll have the opportunity to visit local villages and towns, interact with the friendly locals, and learn about their traditional way of life. You can explore bustling markets, visit ancient temples and pagodas, and witness traditional ceremonies and rituals.
Vibrant Markets
The riverbanks of the Mekong are dotted with lively markets where locals gather to buy and sell goods. These markets offer a vibrant atmosphere and a chance to experience the local culture up close. You can browse through colorful stalls filled with fresh produce, spices, handicrafts, and other unique items.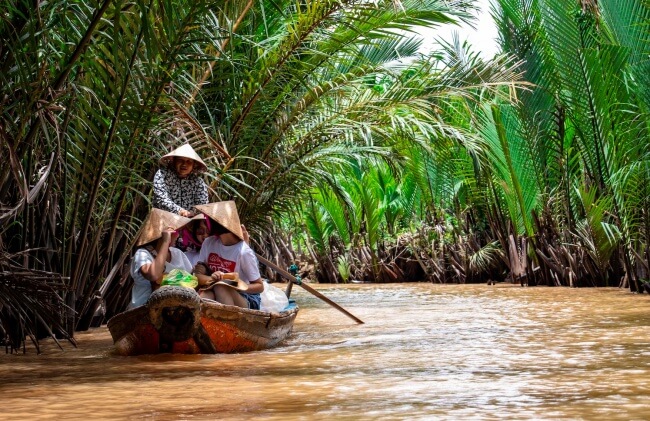 Historical Sites
The Mekong River region is steeped in history, and there are numerous historical sites to explore along the way. From the ancient temples of Angkor Wat in Cambodia to the Imperial City of Hue in Vietnam, you'll have the opportunity to discover architectural wonders and learn about the region's past.
Cultural Delights
A Mekong River cruise is a food lover's paradise. The region is renowned for its delicious and diverse cuisine. You can savor local delicacies such as Vietnamese pho, Cambodian fish amok, and spicy Thai curries. Many cruises also offer cooking classes and demonstrations, allowing you to learn how to prepare authentic dishes.
Wildlife and Nature
The Mekong River and its surrounding areas are home to a rich variety of flora and fauna. You may spot rare bird species, playful dolphins, and other wildlife as you cruise along the river. Some cruises also offer excursions to national parks and nature reserves, providing opportunities for jungle treks and wildlife sightings.
Relaxation and Comfort
Mekong River cruises are designed to provide a comfortable and relaxing experience. Most cruises offer well-appointed cabins with modern amenities, onboard dining options, and entertainment facilities. You can unwind on the deck, enjoy panoramic views, and soak in the serene atmosphere of the river.