With sixteen million foreigners flying into the country each year, Thailand is Asia's primary travel destination and offers a host of places to visit. Yet despite this vast influx of visitors, Thailand's cultural integrity remains largely undamaged – a country that adroitly avoided colonization has been able to absorb Western influences while maintaining its own rich heritage. Though the high-rises and neon lights occupy the foreground of the tourist picture, the typical Thai community is still the farming village, and you need not venture far to encounter a more traditional scene of fishing communities, rubber plantations and Buddhist temples. Around forty percent of Thais earn their living from the land, based around the staple rice, which forms the foundation of the country's unique and famously sophisticated cuisine.
WHERE TO GO IN Thailand ?
With a history that spans centuries and an exotic and friendly culture, Thailand welcomes travelers with tropical beaches, chaotic cities and world-renowned culinary traditions. But with all that Thailand has to offer, you might be overwhelmed by where to head first. Usually, travelers consider attractions, seasonality, food options and more to determine the best places to visit in Thailand. Check the most highlighted destinations or the full list on its dedicated page below
WHAT TO DO & SEE IN Thailand ?
Thailand's world-famous attractions have been well documented on television, are used as backdrops in several Hollywood movies and crop up again and again in modern fiction. Still, to witness the Grand Palace in person or to watch a Railey Beach sunset or even to approach Phi Phi Don for the first time is guaranteed to send a shiver up the spine of even a hardened traveler and the frisson of passing by a limestone monolith in Phang Nga Bay is unforgettable. From the north of Thailand in Chiang Mai to the lush southern province of Krabi you'll be charmed and even shocked by the raw beauty of Thailand.
MORE INSPIRATION
Check out the travel video in Thailand to see our highlighted places to visit, things to do, or the exciting experience.
Thailand EXCLUSIVE EXPERIENCE
There's more to Thailand than meets the eye. Seasoned travelers will know about the boundless culture and mysticism, history and spirituality; fabulous nature in their beaches, jungles and wildlife; the world's best known exotic cuisine and some of the friendliest people you'll ever meet. You could say that Thailand has it all, but there is much more to Thailand yet to be discovered. The average visitor barely scratches the surface, it's hard to take in so much in just a short visit. But here are some novel ideas for those who want to experience something a little different on their next visit to Thailand.
HAND-CRAFTED Thailand TOUR PACKAGES
Take a well-deserved break and experience the mystery and majesty of Thailand, the ancient and noble kingdom of Siam. Our private tours of Thailand immerse you in the country's well known destinations, but we also get off the beaten path to reveal an insider perspective, with off grid places and unique experiences. Get in touch with the team and lets discuss your trip to the land of smiles!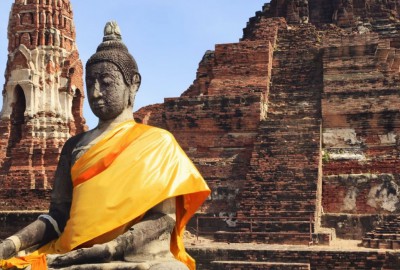 2-week treasures of Thailand Tour
Take a roundtrip of Thailand in 2 weeks from bustling Bangkok to the north and back covering all the iconic sites with a special touch of luxury. Be pampered with door to door...
More
Contact us
Rockland Building, No. 6, Alley 102 - Khuat Duy Tien, Thanh Xuan, Hanoi 120415, Vietnam