Admiring the temple of Angkor
No trip to Cambodia is complete without a stop-off at Angkor Archaeological Park. The sprawling UNESCO World Heritage site is peppered with hundreds of ancient temples, religious structures and crumbling relics dating back to the Khmer Empire. Angkor Wat, Bayon and Ta Prohm are the main draws, with tens of thousands of tourists flocking to them daily.
However, their allure comes with the downside that is mass tourism. These three sites are overcrowded, to the point of being unbearable at times during peak season. However, a simple shake-up to your itinerary can ease this. For example, the typical trail starts with sunrise at Angkor Wat, spending a few hours exploring before moving onto Bayon and then Ta Prohm. Do things a little differently and you may be able to find a slice of peace.
Don't forget, these are a fraction of the temples found throughout the 400-square-hectare site. Banteay Srei is nestled amid pristine Cambodian countryside about 25km from the main trio. This striking 10th century temple is built from red sandstone, etched with hundreds of ornamental carvings. Roluos, about 15km from Angkor, is a small collection of 9th century temples – Bakong, Lolei, Preah Ko and small Prasat Prei Monti – that visitors have pretty much to themselves.
If you have a bit more time, a day trip to remote Koh Ker, about 120km from Siem Reap, is well worth it. The area is home to several small temples and religious sites that are open to the public and sit in varying states of ruin. The main attraction is pyramid-like Prasat Thom, with stunning vistas of the surrounding jungle and countryside found at its top tier. Apart from a handful of locals, you can pretty much expect to have this site all to yourself.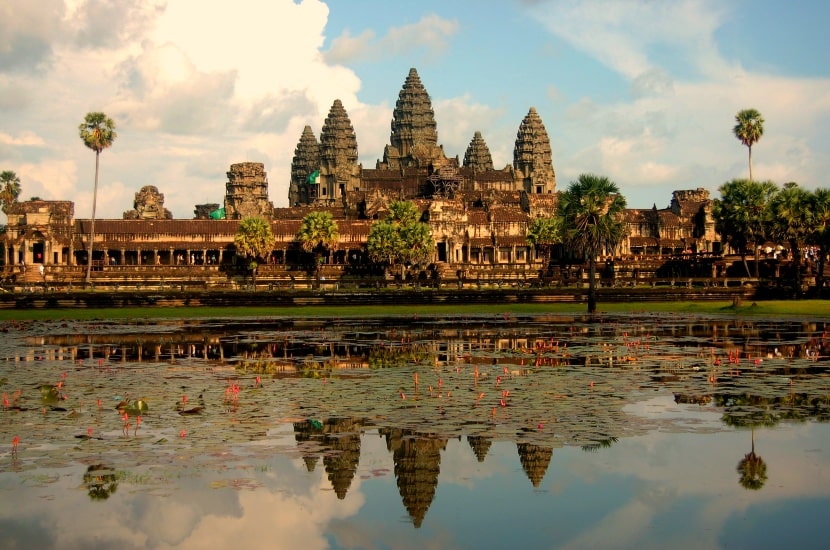 Sun, sand, and sea at the southern beaches
Cambodia has a pretty cool collection of deserted tropical islands, and the best part is hordes of tourists are yet to discover the majority. Koh Rong is the largest, most developed and popular. The term "developed" is used loosely, so don't expect an island akin to Thailand's Phuket. Infrastructure is basic, with electricity and Wi-Fi limited.
The liveliest part of the jungle-clad island is the stretch of beach at Koh Touch, which is packed with guesthouses and backpacker bars. Southwestern Long Beach boasts kilometres of powder white sand, barely any people and the more exclusive Sok San Beach Resort and super-luxurious The Royal Sands Koh Rong.
Koh Rong Sanloem sits about a 10-minute boat ride from Koh Rong and is quickly picking up in the popularity stakes. Saracen Bay is home to a collection of resorts that range from basic wooden huts through to luxury villas. The clue is in the name – Sunset Beach is the best spot to catch mind-blowing sunsets and the small fishing village of M'phey Bei is home to several budget accommodations.
Koh Ta Kiev is slowly starting to emerge with travellers seeking to escape it all. Home to a small smattering of rustic resorts, life on the island is simple, with a few resorts offering camping options for guests wanting to sleep below a sky of twinkling stars.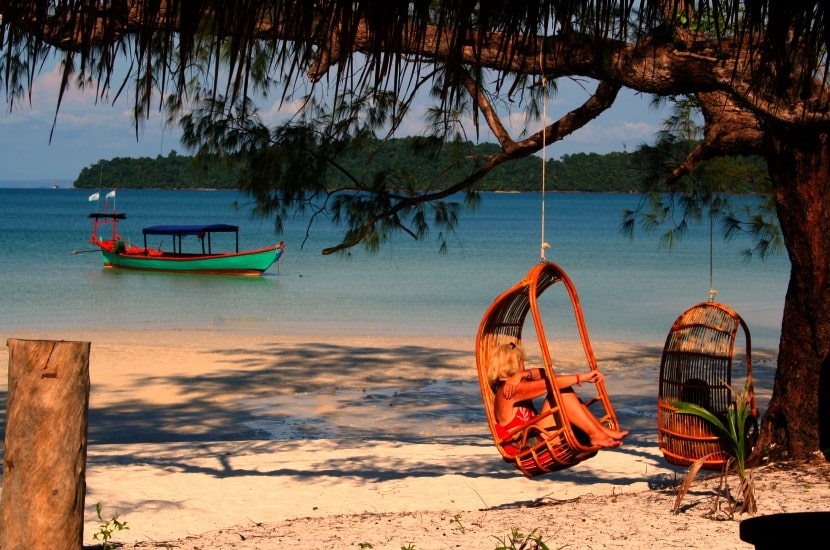 Exploring the rural Cambodia
Rural Cambodia is the real Cambodia. It is in the Kingdom's countryside that visitors will come across the warm hospitality Cambodians are famous for, stunning natural landscapes and a slower pace of life.
Thankfully, escaping the city is easy, with rural landscapes making up more than 85 percent of Cambodia. If you're spending a few days in Phnom Penh, head to Koh Dach (also known as 'Silk Island'). The small island sits in the middle of the Mekong River and despite being about 40 minutes from the capital, it feels a million miles away. Here, time seemingly stands still with agriculture and silk weaving being the main money-makers. Hire a bicycle and cycle through traditional villages, stopping off for a refreshing coconut along the way.
If you're in Siem Reap, then German development organisation GIZ recently launched its Siem Reap Beyond the Temples campaign. The aim is to encourage visitors to extend their Siem Reap stay and explore the province's growing collection of community-driven projects. A website and map have been produced outlining the wide variety of activities available, from sampling local food and meeting the artisans behind traditional handicrafts, to spending the night with a family in a homestay and engaging in village life.
Kampot and Kep are also great bases to see something a little different. The two sleepy towns are surrounded by stunning countryside that takes in stretching paddies, pepper farms – Kampot is famous for its pepper – and salt fields.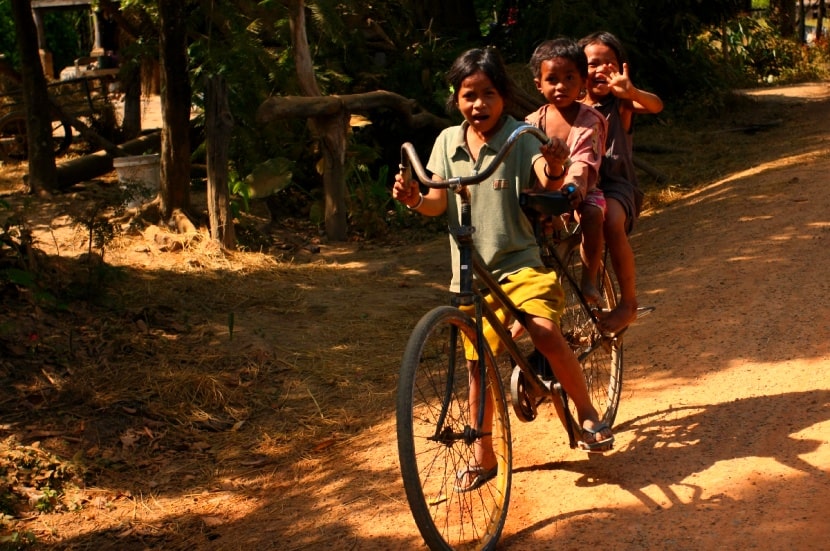 Sail along the mighty Mekong
The Mekong River is a Southeast Asian icon, slicing through six countries as it makes its way from Tibet to Vietnam. In Cambodia, it enters at the northeastern province of Stung Treng from Laos, passing through Phnom Penh on its way to Vietnam.
Trans-country cruises are available that take passengers along the Mekong from Laos to Cambodia and onto Vietnam, or a mix of the countries. These tend to span several days, or a few weeks, depending on the itinerary.
Alternatively, a sunset cruise along the Mekong is a must while in Phnom Penh. At dusk, the Mekong and Tonle Sap rivers light up with boats of varying sizes hitting the water for an evening of cruising. Many include food and drink options. Kanika Boat is a popular choice. Of course, if there's a group of you, then there's the option of hiring a private boat, bringing along your own booze and refreshments and sailing solo.