The arrival of Hollywood starlet Angelina Jolie in Cambodia during the Covid-19 crisis serves as invaluable promotion of the Kingdom as a safe tourist destination and comes as the greatest boost in its efforts to attract tourists since its November reopening, according to industry insiders.
The actress and human rights ambassador arrived in the Kingdom to visit Angkor Archaeological Park in Siem Reap from February 20-21, where she officially inaugurated the Women for Bees programme, organised in collaboration with UNESCO and coordinated by the APSARA National Authority (ANA).
The UNESCO-GUERLAIN beekeeping programme, which she founded, aims to help conserve the Apis cerana and Apis dorsata species of honey bees native to Angkor Archaeological Park. It also hopes to promote sustainable beekeeping and empower women to earn a living for their families and communities.
After her time in Siem Reap, Jolie was subsequently spotted visiting Tuol Tompoung Market in Phnom Penh on February 23.
ANA deputy director-general Long Kosal said that the arrival of the Hollywood superstar is a boon for the Cambodian tourism sector. Her visit will prove to tourists and foreign investors that Cambodia is a safe destination that has largely recovered from the Covid-19 crisis, he said.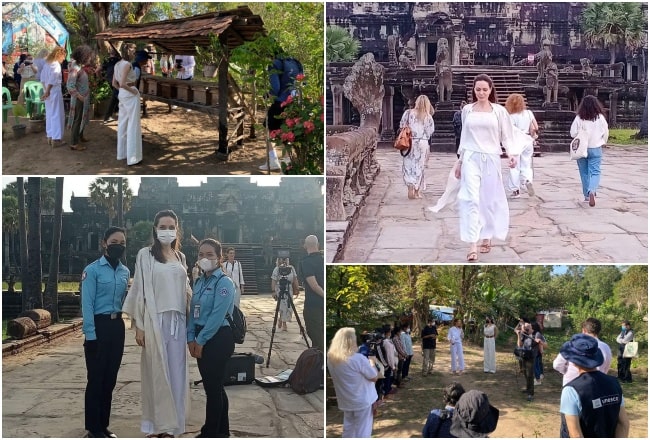 He said it should be noted that the Kingdom has also been recognised worldwide for achieving a high rate of vaccination against the virus.
"The arrival of Angelina Jolie is also a symbol that Cambodia is a safe tourism destination," he told The Post.
Pacific Asia Travel Association (PATA) Cambodia chapter chairman Thourn Sinan told The Post on February 24 that Jolie's Cambodia visit has been a significant contribution to the promotion of Cambodian tourism to the world by providing confidence and an abundance of free advertising.
He added that her arrival was timely as it coincided with the Kingdom's efforts to promote tourism after its reopening to fully vaccinated visitors.
"Angelina Jolie's trip to Cambodia I can call free marketing, especially as it has helped Cambodia save millions of dollars from tourism advertising. It will greatly contribute to the promotion of Cambodian tourism to the world," he said.
Cambodia Association of Travel Agents (CATA) adviser Ho Vandy agreed, saying that Jolie's visit coincides and likely precipitates what he expects will be a gradual increase in the number of international flights to the Kingdom.
"Although the number of international tourists arriving in Cambodia is still small, I expect that from next month the number of international tourists coming to Cambodia will gradually rise as the number of international flights will also increase," he said.