Long-distance public transport in Laos is either by bus or minivans. In some areas, you can find pickups that are converted with benches down either side. These means of transports are often used by locals and backpackers to travel throughout the country cheap.
Bus
The bus network is quite developed in Laos with plenty of different routes, but traveling by bus used to be slow, uncomfortable and rather unsafe.
Nowadays, private operators have established VIP buses on some busier routes, offering faster and more luxurious air-con services. These obviously cost a little more than normal buses but really worth the extra bucks. Many guesthouses can book tickets for a small fee.
Many routes also offer overnight buses usually leaving at around 8pm and arriving the next day early morning at around 6am. This way, you can for instance travel from Luang Prabang to Vientiane for less than US $15. Moreover, you save the money of a hotel room.
You can also stop in some cities along the way, but you will have to deal with middle of the night arrival. Also note that most bus stations are located on the outskirts of the cities and you will likely need to take a tuk-tuk to reach your hotel downtown.
Note that due to poor road conditions, you might not sleep very well. Long distance buses are clearly not suitable for everyone, but it is a great option for those traveling on a budget and having time.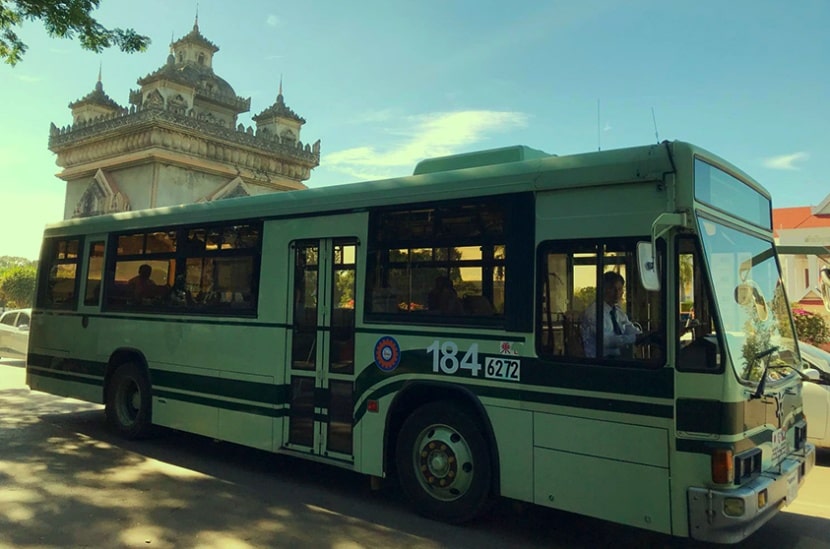 Minivans
Minivans are slightly more comfortable and faster than bus since they can overtake other vehicles quite easily. However, expect departure time to not be exact since they usually wait for the minivan being full before departing. Note that minivans departure point is sometimes situated at a different station than the main bus station which can be confusing.
Surviving long-distance road trips
Heed the following points and your long-distance road trip will, possibly, be more comfortable and enjoyable:
Bring some snacks and drinks with you, it is a good way to kill time. If you forget, do not worry as the bus is going to make several stops along the way where you can grab some food.
Take a jacket or blanket as temperatures can drop substantially at night; air-con can also make it chilly.
Consider earplugs and an eye mask as well if you plan to grab a little shut-eye between toilet stops.
Try not to become alarmed when you see how some local passengers hold their breath whenever a bus approaches a particularly dodgy-looking bridge.