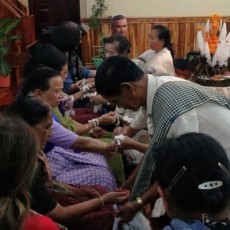 Group

Must-see

10 Oct. 2018 - 24 Oct. 2018
We had the most amazing time in Vietnam, Laos, and Cambodia with a group tour. A highlight of our trip was definitely Halong Bay, Luang Prabang, and Siem Reap. It was above and beyond our expectations. The service the staff provided and the itinerary and food on the boat were amazing. We felt like we ate like kings and everyone on board were extremely flexible with our children, offering them different food if they required it.
All of the tour guides were so great our children keep talking about them. I can't speak highly enough of the experience we had it was awesome. Thank you and your staff as well for making this trip possible, it made it so much easier for us
Consistent, reliable service
As with the other positive reviews posted for this company, we also experienced flawless service during our ~2wk trip across northern Vietnam. Our guides Mr Thuyen (Hanoi) and Mr Yeng (SaPa) spoke excellent... More
Couple /
14 days
/ Must-see
Professional caring guides
We booked a trip with this company for our own tour to Laos Vietnam and Cambodia. Could not fault them always there at airports. Always on time. Very caring and thoughtful guides with lots of knowledge. Help... More
Couple /
25 days
/ Cruise
Outstanding private tour of Thailand & Laos
We communicated with Ms. Bella who arranged the meticulate details for our 3-week tour in Laos & Thailand. We were greeted in Luang Prabang by our guide Mr. Pom who was with us for 10 days... More
Couple /
26 days
/ Wellness & Leisure
We believe you have the right to arm yourselves with as much information as possible before making any decision.
Check below the detailed information for our different destinations, our plans by travel theme or time frame to learn more before moving forward...
Either are you wondering about best time to visit, visa policy, or how to get the cheapest flight, we have your back!
WHAT MORE? Choose the country you plan to visit, then search for your nationality below to see our special travel tips & advice for your country. CONTACT US if you cannot find yours.