An older grey-haired Lao woman in a lavender cardigan and a black-and-floral wrap sits on a cement bench outside her family's shop. She sits next to dozens of dark green squares of cut river weed, spread over the bench and a bamboo basket. They're covered with sesame seeds and drying in the sun. Most of the shop's customers are Lao. They stop by to pick up snacks, chips, sunflower seeds, beer, lighters and cigarettes.
The shop and the bench are on a quiet street in the ancient capital of Luang Prabang, next to a popular papaya salad stand and across from a temple: Wat Nong Sikhounmuang. Built almost 300 years ago, it allegedly holds the largest Buddha statue in Luang Prabang. Its three-tiered golden roof is adorned with 14 nagas, magical serpents of the Mekong River.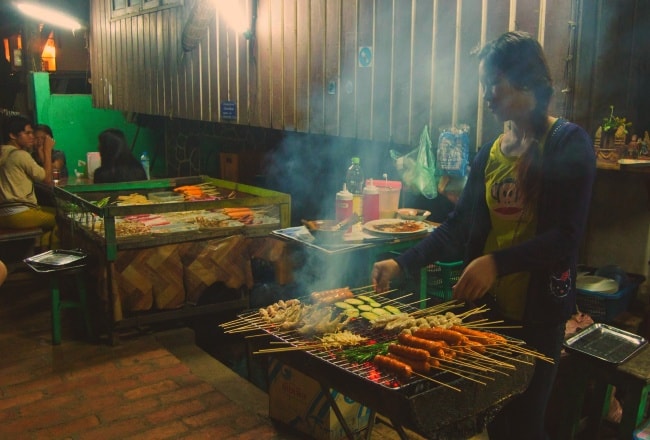 The Lao woman tells me the river weeds are khaipen: an algae harvested from the Mekong River, its banks just a block away, or from its tributaries around Luang Prabang. Her mother learned to make it after moving out of the mountains and into Luang Prabang and taught her when she was young.
She says the khaipen is harvested in the cool season after the monsoons have ended, when the rivers are flowing clean and the water levels are lower. Local families, farmers and fisherfolk cut the khaipen from the riverbed, pounding, cutting and washing the weed in a flavoured broth before spreading it to dry and sprinkling it with seeds. Sometimes they add fried garlic or onion but this woman doesn't.
Khaipen sheets are roasted or flash-fried and eaten on their own as a snack or with chili dips. They are sold by the bag in markets and a standard on Lao menus. They are stiffer than Japanese nori, the seaweed used for sushi. Khaipen are Lao potato chips, Lays from the bottom of a river. They are even slightly ruffled.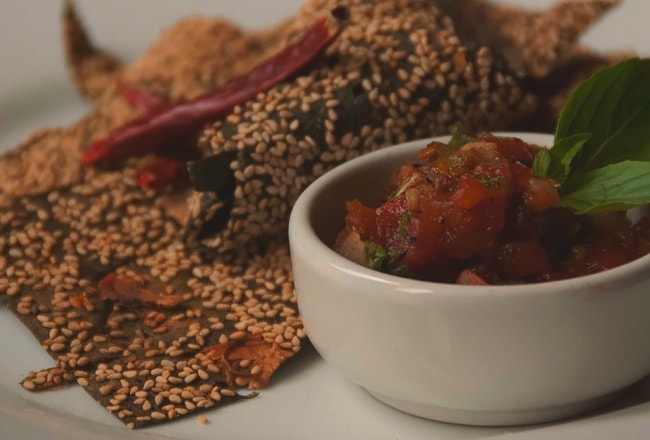 Food in Laos has a lot in common with the cuisine of neighboring Thailand: intense flavors, family-style shared dishes and ingredients—chilies, garlic, lemongrass, galangal, ginger, fish, oyster and soy sauces, rice, noodles. The languages of the two countries are very similar and Laos maintains strong ties to Thailand's northeastern Isaan region.
But eating Lao food means branching out a little from the standard fair of Thai kitchens, beyond coconut-laden curries and stir-fried noodles to chili pastes, fermented fish, and some more dense and less accessible or familiar flavors.
Eating Lao also means embracing sticky rice. While common in Thailand, sticky rice is nearly ubiquitous in Laos. Khao niao, as it is known, is steamed for hours in a bamboo basket called a huaht and eaten with your fingers, dipping it in curries or using the rice to form a kind of scoop.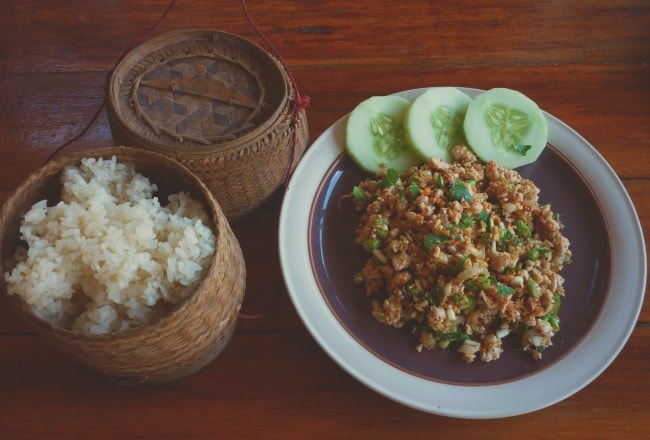 The food in Laos is diverse: traditional meals vary dramatically among ethinc groups, from lowland Lao Lum to upland Lao Theung, Hmong, Yao and Khmu communities. The differences reflect groups' culture and history: gathered and foraged foods, like khaipen or wild cassava and yams, have historically been vital for groups living outside the lowland cultivated agricultural hubs.
The cuisine is also sown with influences from French colonial rule—baguettes and paté—and migration from Vietnam and Thailand, and more recently from China. Sandwiches and baked sweets are common. Many towns also have a restaurant or two serving Indian food.
What follows are some of the best and more unique dishes Lao food has to offer. It is a short guide to enjoying Lao street food and appreciating the differences between Lao food and Thai food.
The details of dishes will change from town to town and from the city to the countryside. Different areas of the country have been impacted in distinct ways by migration, colonial rule and the reach of the Lao kingdoms: Lan Xang, Luang Phrabang, Vientiane and Champasak. This comes out in the country's food—Vietnamese influences, for example, are generally much stronger in central and southern Laos due to migration during French colonial rule.
A general rule of thumb: if it smells unfamiliar but the Lao guy next to you seems to like it, eat it. You will be happy you did. At least in retrospect.