Considering the potato-like shape of Cambodia, you would think it would be perfect for a circular route. Sadly, its road layout does not quite cooperate with such plans.
The main transport arteries are between Phnom Penh and Siem Reap (running north and south of the Tonle lake). Other main roads shoot off in different directions from the capital. This means that if you want to travel all over Cambodia, you might have to come back through Phnom Penh once or twice.
The map below marks some of the key travel destinations for backpacking Cambodia.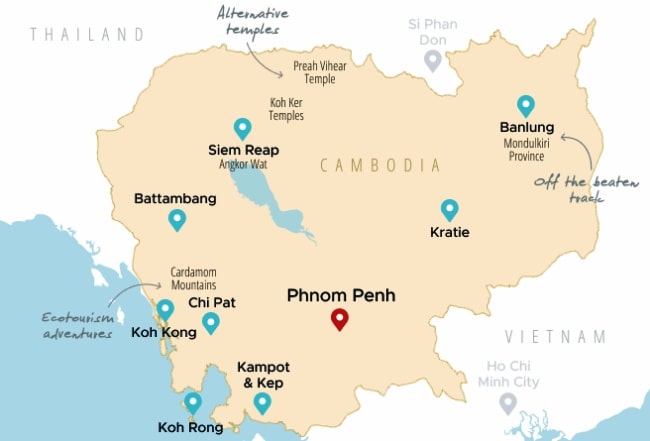 The central parts of Cambodia are very flat — just huge plains without much to grab your visual interest, besides the Mekong river. I like the southwestern part a lot as it has more mountains (and the islands as well of course). Combining Angkor Wat with southern Cambodia can easily keep you busy for 2 weeks or more, and I would probably recommend focusing on these parts if you don't have infinite time.
Many bus services operate between Phnom Penh, Siem Reap, and Battambang. Other destinations are often serviced only by minivans. They will get you where you need to be, though they are often totally crammed with luggage and passengers. On some routes, you'll have to transfer between minivans multiple times, causing much delay. (The 4000 Islands in Laos to Phnom Penh route is notorious for this.) The only solution is to be patient and to take estimated travel times with a pinch of salt.