Ta Keo is surrounded by a moat, which is now dried up, except after heavy rainfall. The outer temple wall, forming a 122 metres long and 106 metres wide rectangle, is not built on ground level, as usual, but at the edge of the first tier of the pyramid, which leaves the impression of a fortress. Inscription on the pilasters at the east gate record the temple's foundation.
Ta Keo's pyramidal structure is 21.5 m high. Its less steep eastern stairway still has a 55 degree gradient and is not easy to climb. The typical step pyramid Ta Keo, all in all, is the the most proportioned of the Khmer state temples preceding the Angkor Wat.
The majestic Ta Keo is the first temple constructed entirely of sandstone, enormous blocks were cut at the quarries of Phnom Kulen in 30 kilometers distance. Their accuracy is all the more astonishing as this kind of greenish grey sandstone, called feldspathic wacke or greywacke, is very hard to carve.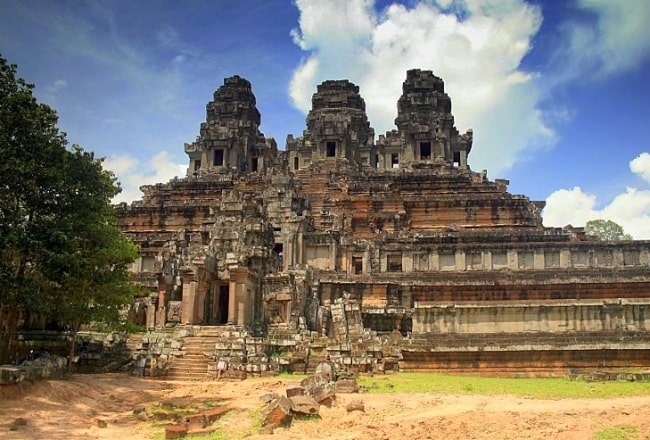 Furthermore, Ta Keo is the first Angkor temple with a straight gallery instead of a series of rectangular structures. Interestingly the brick-roofed gallery of Ta Keo had no doors, it appears to be purely decorative. Galleries became a main characteristic of later Khmer temples, e.g. the state temples Baphuon, Angkor Wat, and Bayon in Angkor Thom. So Ta Keo introduces the combination of three classical characteristics of imperial Khmer architecture: rising levels, enclosures with galleries, and five Prasat towers arranged in a quincunx.
At the foot of the eastern staircase there is a statue of a kneeling Nandi bull, Shiva's mount. Ta Keo's upper platform is square and almost entirely occupied by this quincunx of Prasats, similar to Pre Rup built by Jayavarman's father Rajendravarman. The central tower reaches a total height of 45 metres above ground level. All five towers are on cruciform bases and, as an innovation, open to all four cardinal points by projecting vestibules. So in this case there are no false or blind doors at the outer Prasat walls (they are found only at the corners of the central tower).
Ta Keo is plainly decorated, only on the east face there are some damaged stone carvings of floral patterns. The complete lack of lintel carvings is surprising. The usual explanation for this peculiaritiy is that Ta Keo remained unfinished. Yogishvara Pandita, a high priest who became minister of Suryavarman I and was in charge of Ta Keo, but felt himself unworthy of occupying the upper levels of the temple, records in inscriptions that a lightning strike hit the still unfinished building, so the works stopped because of this evil omen.
But still there are unanswered questions. Jayavarman V reigned many decades, and this state temple, unlike some others of his predecessors, was not abandoned after his death. Quite the reverse, works at Ta Keo were continued by Suryavarman I (1002-1050), whose rule also was stable and lasted a long time.
Below is the glimpse of Ta Keo Temple in 360o viewing: