The Hoi An Lantern Festival is a monthly event that celebrates the full moon. It is held on the 14th day of each lunar month when the moon is at its fullest and brightest.
The full moon is one of the most sacred times in the Buddhist calendar. It is said that Buddha was not only born on a full moon but attained enlightenment on a full moon. And so for centuries Buddhists have viewed the full moon as an auspicious time of transformation.
Even today people all over Asia view the full moon as a time to meditate, observe rituals, reflect on life, and worship their ancestors. This is done in many ways from offerings made at family shrines to the burning of incense and the lighting of candles. In recent years these traditions have morphed into the popular Hoi An Lantern Festival.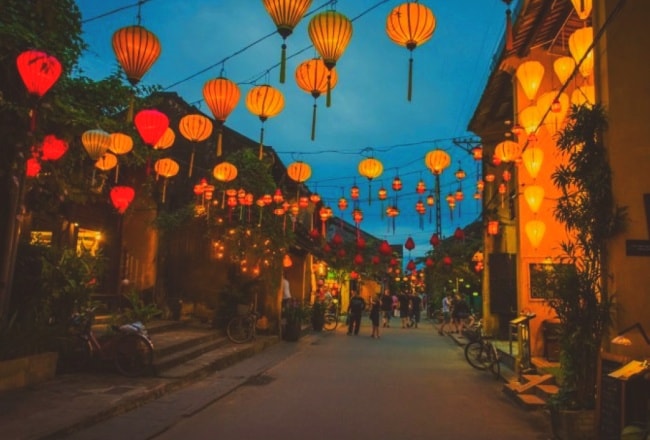 Lanterns are the focus of this event. Lanterns are beautifully lit, and candles are placed at the bottom of the colorful paper lanterns which convey our wish for health and peace. They are placed to Hoai River as an offering to the God as well as our ancestors. Along the riverbank, there are folk performances with music (bamboo flutes, drums, and fiddles) and poetry readings.
The festivities start at dusk and finish at around 8-9pm. The fun concentrates on Japanese Covered Bridge and Cau An Hoi Bridge. Electricity use is kept at a minimum level so that the lanterns can illuminate Hoi An and create the most romantic scene ever. Hoi An Lantern Festival is the ideal time for your family trip to Vietnam since there will be a lot of exciting activities here.