Many of you might be wondering how the Half Moon Party is different from the Full Moon Party, well aside from that each party celebrates a different cycle of the moon they are very different.
The Full Moon Party is also located in Koh Phangan and takes place at Haad Rin Beach and is known to be one of the biggest and most popular raves you could ever encounter in Thailand.
While the Half Moon Party takes place at a small forest which clears 2 km from Baan Thai inland on the southern coast of the island and features an amazing and lively atmosphere with top-notch local DJs spinning some records from different genres of music like House, Techno, and Trance.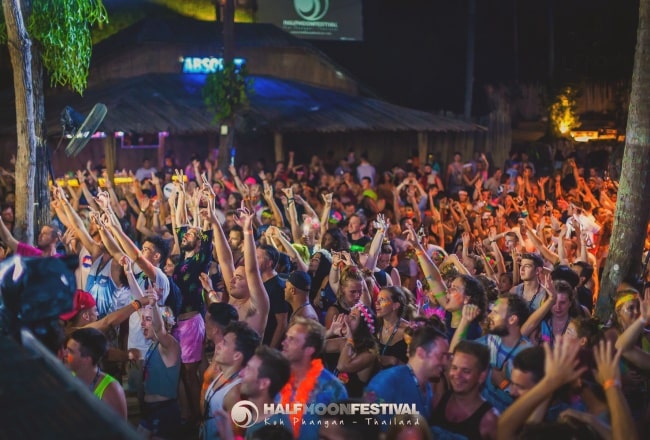 The Half Moon Party has a more of a festival vibe as it is more organized and properly staged as opposed to Full Moon Parties where it is more chaotic.
The Full Moon Party takes place once a month while Half Moon Parties are thrown twice each month due to the presence of two half-moons each month.
The event is held in a much smaller venue than the full moon party, which as a result gives you a more secure environment and a better-organized event because organizers get to focus on a much better sound quality and provide a free-spirited state of mind for the party goers. The party has more than 5 food stalls and bars with 2 big main stages performing vast styles of music.
Of course, because it is thrown by a private company which is well known for hosting this festival called Half Moon Festival, it is properly organized and doesn't have the same "free for all" system of the Full Moon Parties. There is an entry fee of 1,000 Baht which will grant you entrance and a free bucket.
But this also means there are more proper bathrooms and security to keep the event running more smoothly and free of trouble.
Check out the ultimate guide on Full Moon Party

What happens if there is no moon? No worries, check out Black Moon Party