Abandoned to the forests of the north, Koh Ker, capital of the Angkorian empire from 928 to 944 CE, is within day-trip distance of Siem Reap. Most visitors start at Prasat Krahom where impressive stone carvings grace lintels, doorposts and slender window columns. The principal monument is Mayan-looking Prasat Thom, a 55m-wide, 40m-high sandstone-faced pyramid whose seven tiers offer spectacular views across the forest. Koh Ker is 127km northeast of Siem Reap.
Long one of Cambodia's most remote and inaccessible temple complexes, the opening of a toll road from Dam Dek (via Beng Mealea) put Koh Ker (pronounced ko-kayer) within striking distance of Siem Reap. To really appreciate the temples – the ensemble has 42 major structures in an area that measures 9km by 4km – it's recommended that travellers overnight nearby.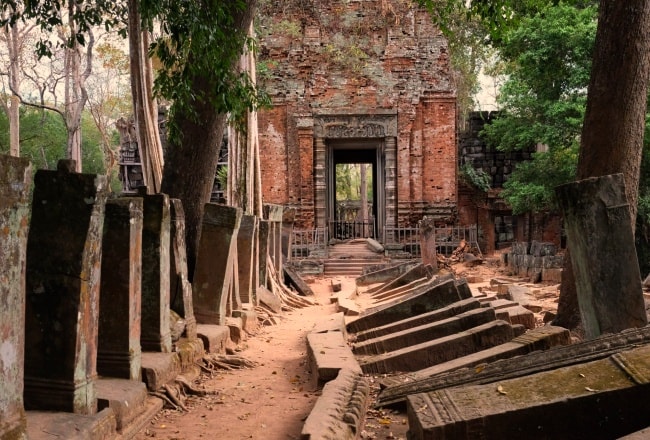 Prasat Krahom, the second-largest structure at Koh Ker, is so named for the red bricks from which it is constructed. Sadly, none of the carved lions for which this temple was once known remain, though there's still plenty to see, with stone archways and galleries leaning hither and thither. A naga-flanked causeway and a series of sanctuaries, libraries and gates lead past trees and vegetation-covered ponds. Just west of Prasat Krahom, at the far western end of a half-fallen colonnade, are the remains (most of the head) of a statue of Nandin.
The principal monument at Koh Ker is Prasat Thom. The staircase to the top is open to a limited number of visitors and the views are spectacular if you can stomach the heights. Some 40 inscriptions, dating from 932 to 1010, have been found here.
South of this central group is a 1185m-by-548m baray known as the Rahal. It is fed by the Sen River, which supplied water to irrigate the land in this arid area.
Some of the largest Shiva linga in Cambodia can still be seen in four temples about 1km northeast of Prasat Thom. The largest is found in Prasat Thneng, while Prasat Leung is similarly well endowed.
Among the many other temples that are found around Koh Ker, Prasat Bram is a real highlight. It consists of a collection of brick towers, at least two of which have been completely smothered by voracious strangler figs; the probing roots cut through the brickwork like liquid mercury.
Koh Ker is one of the least-studied temple areas from the Angkorian period and no restoration work was ever undertaken here. Louis Delaporte visited in 1880 during his extensive investigations into Angkorian temples. It was surveyed in 1921 by the great Henri Parmentier for an article in the Bulletin de l'École d'Extrême Orient. Archaeological surveys were also carried out by Cambodian teams in the 1950s and '60s, but all records vanished during the destruction of the 1970s, helping to preserve this complex as something of an enigma.
Several of the most impressive pieces in the National Museum in Phnom Penh come from Koh Ker, including the huge garuda (mythical half-man, half-bird creature) that greets visitors in the entrance hall and a unique carving depicting a pair of wrestling monkey-kings.
The site is about two and half hours away from Siem Reap, and guests can stay in the nearby village of Seyiong, 10 kms from the temples where there is a number of guests houses. Travelers can also stay in Koh Ker Jungle Lodge Homestay, a sustainable tourism project built in the village of Koh Ker in 2009, by booking in advance of arrival. The Koh Ker community in May 2019 open a basic wooden community rest house in the village.
Since 1992 the site of Koh Ker is on the UNESCO tentative world heritage list.