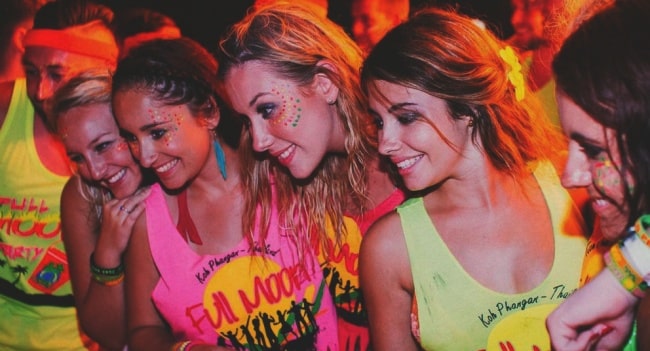 Thailand is famous for two things: great food and amazing parties. And at the island of Koh Phangan is where you will find the most incredible parties you'll ever attend in your life.
No matter where you are from or what your music tastes are, you're sure to find something you can relate to. After all, you are in an island filled with picture-perfect beaches, good food, and friendly people.
The key is finding the right festivity that will change your life. And at Koh Phangan, there's no shortage. To help you get started, here's the ultimate list of the best parties for every type of party-goer
Top 10 Koh Phangan Parties
Check out the list of top 10 most crazy parties in Koh Phangan
Full Moon Party
This is the mother of all parties. Almost every traveler has dreamed of attending this notorious event famous for loud music, fire displays, buckets of alcohol, and all-night dancing. Expect 20,000 to 30,000 people from all over the world, all in high spirits even before midnight hits.
Located at Haad Rin Beach, this monthly event can get pretty wild, so beginners are advised to read up on our Full Moon Party survival guide beforehand.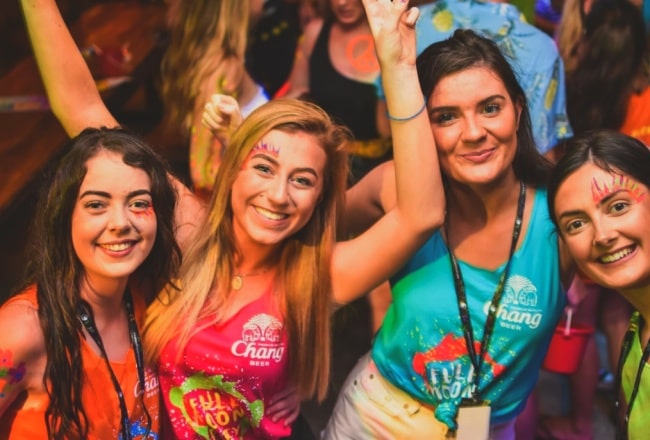 Half Moon Festival
Held at the Ban Khai jungle every two weeks, this festival boasts three stages of music plus better amenities (albeit with pricier tickets). Aside from offering a different vibe in terms of music and decorations, most people prefer this party than its big sister, the Full Moon.
Don't look at the Half Moon Festival as compensation because you missed the main event. Instead, treat is as a wild alternative where you are bound to have a more unique experience.
Check out the epic guide & latest dates for Half Moon Party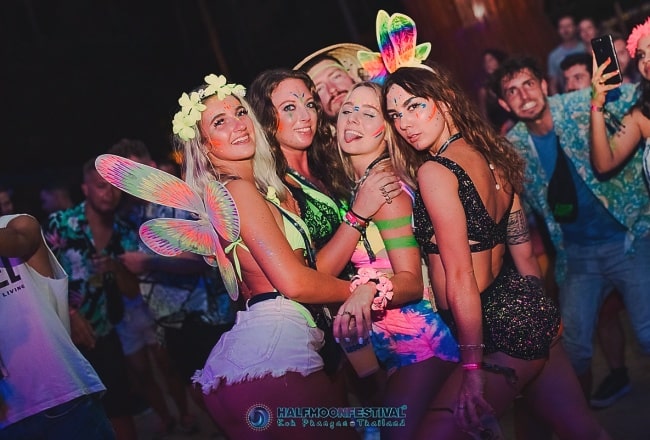 Black Moon Party
No moon? No problem! The Black Moon Party, more commonly called Black Moon Culture, is all about peace, trance, and dance at Mac's Bay Resort on Ban Tai Beach. Lose yourself in progressive and psychedelic trance music amidst neon lights and a moonless night – minus the huge crowd.
Schedule: Facebook.com/pg/Blackmoon.Culture/events/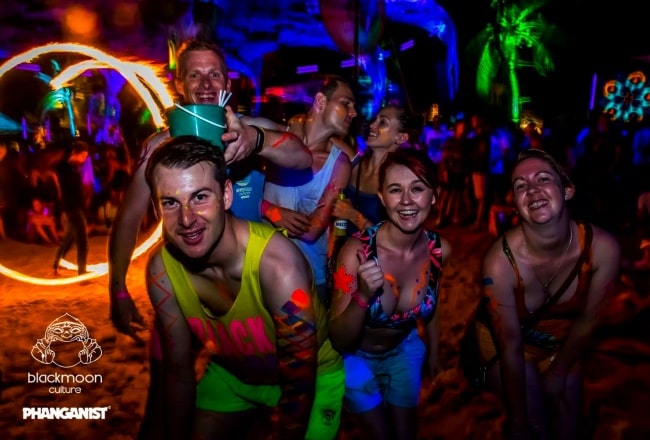 Shiva Moon Party
If you're a serious trance music lover, then you'll want to be a part of this long-standing festivity held about a mile or so into the Ban Tai jungle.
Featuring psychedelic trance, you can dance the night away in one of its three beautifully decorated stages. The event also has professional entertainers and DJs to truly enchant guests.
Although held about once to three times a month, their schedules can be irregular so keep tabs on them through social media to get a head's up.
Check out the latest activities: https://www.facebook.com/Shivamoonphangan/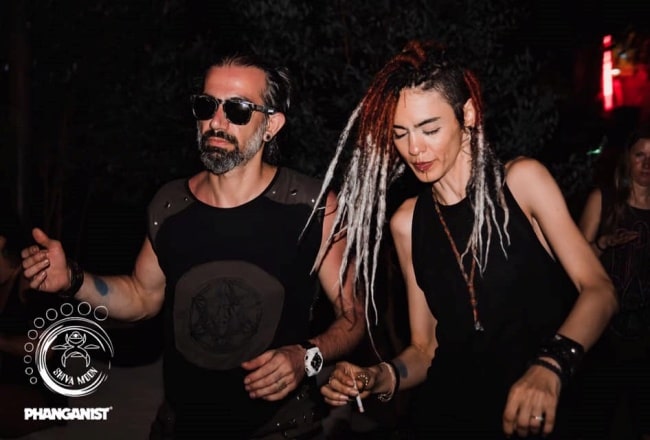 The Jungle Experience
The great thing about The Jungle Experience is that it caters to all the senses. There's underground house and techno music from the best DJs in the business; impressive laser light shows and outstanding decor to create the right atmosphere; plus professional acrobats, drummers, artists, dancers, and a myriad of performers all pumped up and ready to partake in the craziness.
All that's missing is you. So don your wildest costume – complete with feathers, colorful body paint, and glitter – and immerse yourself in this one-of-a-kind festival that happens a day before the full moon. It's like Ibiza but in the lush jungle of Baan Tai.
Stay updated: https://www.facebook.com/JungleExperiencePartyKohPhangan/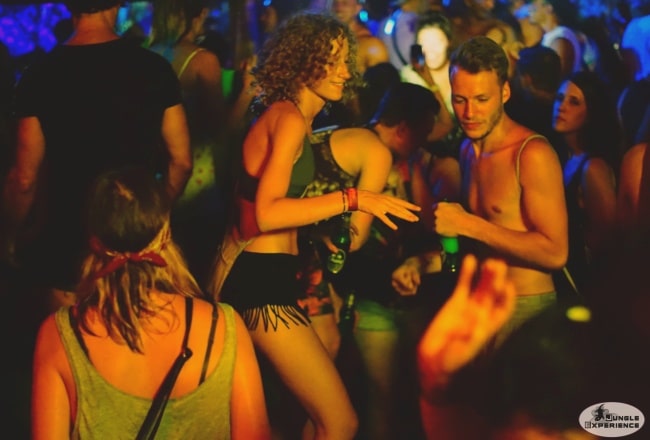 Sramanora Waterfall Party
Held in Ban Kai jungle two days before and two days after every full moon, this is one of the most unique parties in Koh Phangan. The location itself boasts a rock pool, a small waterfall, and lush greenery all around.
Meant for serious underground electronic music lovers, the Waterfall Party also features the island's biggest sound system as well as a chill and refreshing crowd. Check it out for yourself and see if you can keep up until sunrise.
Stay updated: https://www.facebook.com/waterfallparty/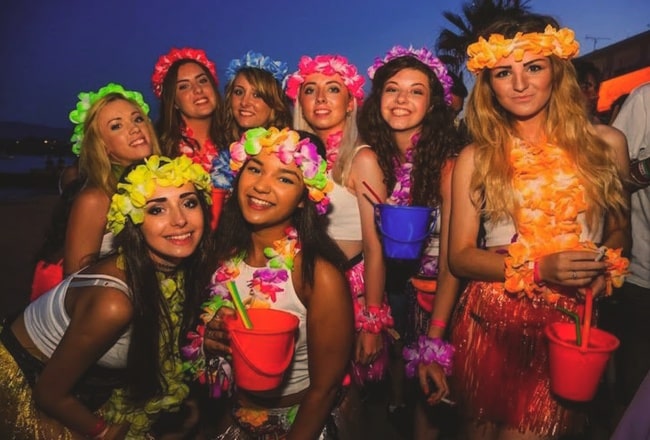 Loi Lay Floating Party
Dare to make waves - literally - by joining in on the Loi Lay Floating Party every Sunday at a floating bar located at the Baan Tai beach pier. With a more intimate attendance of about 150 people, it's easy to make friends on the wooden dance floor. If you're into house and techno music, this is the place to be.
Stay updated: https://www.facebook.com/LoiLayKohPhangan/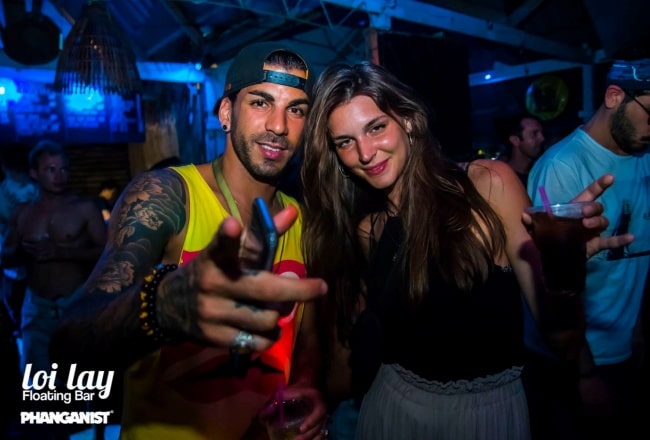 Eden Garden Party
If you're looking for a distinct event unlike any of the famous moon parties in Thailand, then this one might be for you. Held every Saturday of the month, the 'secret' Eden Garden Party is located at the Eden Garden bar tucked away among the giant slippery rocks at Haad Yuan bay.
There's a rickety walkway so be very careful and wear proper shoes as well as a fanny pack for all your stuff. Once you're there though, you'll be rewarded with the best psychedelic beats from international DJs. Couple that with amazing views of the bay and you've got yourself a party story worth telling.
Stay updated: https://www.facebook.com/Eden-Garden-135230163748/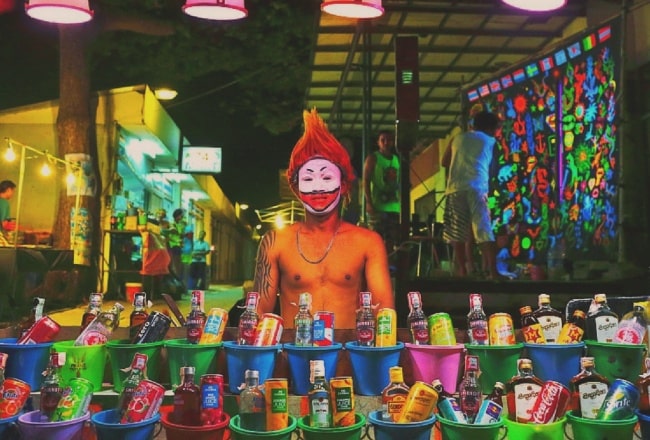 Merka Bar/Samsara Beach
Follow the deep sounds of house, psytrance, and tech-house towards the private Samsara Beach and find a party that will overwhelm the senses. Chill out and hang with your friends, or enjoy affordable drinks starting at noon.
Formerly known as Merkaba Beach Club, the place boasts of a swimming pool, advanced sound systems, and a huge dance space to get your groove on. There's always something going on, so follow them on social media for more details.
Stay updated: https://www.facebook.com/psymsara/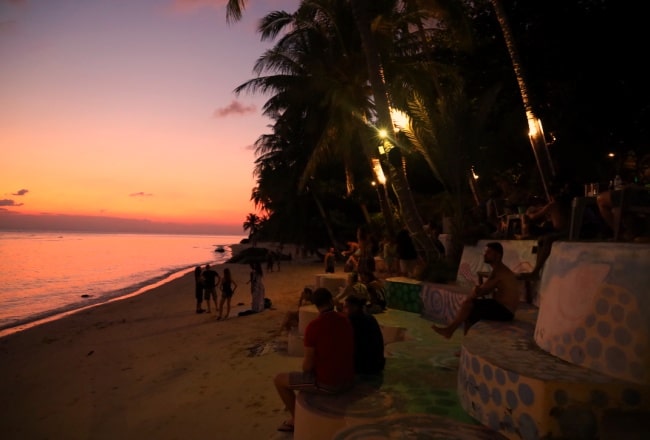 Lost Paradise Party
If you want a legendary story to tell once you get home, then head on over to the fabled Lost Paradise Party for a totally exclusive experience. Getting there is already a challenge in itself, as you need to go to Haad Yao East via a boat or a 4×4 truck.
On the secluded beach is a small bungalow home to chill underground music and carefree spirits. With the combination of good tunes, soft sand, and blue skies, you'll feel like you just got lost in paradise yourself.
There's a party every two weeks, so that should give you plenty of time to find this hidden gem.
Stay updated: https://www.facebook.com/lostparadiseparty/
Top 6 nightlife spots
Cannot make it for the above 10 parties in Koh Phangan? No worries, there are still many places to go once you get your feet on this party island.
The Jam Bar
The Jam Bar offers the dream destination in Koh Phangan for musician from all around the world. It is located right on the beach of Hin Kong, just after the bridge when you come from Thong Sala. Mostly made of wood, bamboo and thatch, this cool venue has musical instruments at hand for exciting jamming sessions. A meeting point of all the most talented musicians in Koh Phangan, The Jam is also a great sundowner spot, at which you can eat and drink for decent prices.
Opening Hours: Sunday from 8pm to 1am and Thursday from 7pm to 1am
Location: Hin Kong Rd, Koh Phangan, Surat Thani 84280, Thailand
Tel.: +66 (0)85 923 0337
Infinity Beach Club
Infinity Beach Club Hostel is one of those places where the party never seems to end. Located on the serene Baan Tai beachfront, between Thong Sala and Haad Rin, Infinity is a modern beach club that occupies no less than 1,000 sqm of land. It features three bars, two restaurants, a rooftop terrace and a giant swimming pool. The food served in the restaurants ranges from fresh seafood to Asian and western fusion cuisine. Get there for the happy hour between 17:00 and 18:00 for great discounts on sundowners. DJs rock the Infinity Beach Club from sunset until 01:00.
Opening Hours: Daily from 10am to 2am
Location: 17/3 Moo 4, Baan Tai, Koh Phangan, Surat Thani 84280, Thailand
Tel.: +66 (0)62 323 3357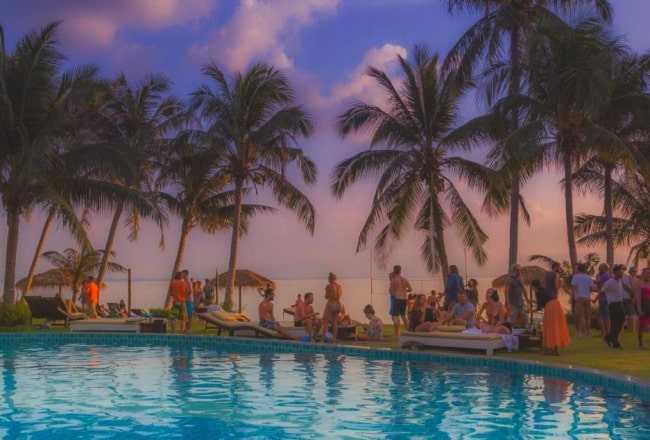 Sandcastle Club
Sandcastle Club is another popular venue for partiers. Located right on Haad Rin Beach East, it features plenty of indoor and outdoor space to dance and relax. Each day seems to be a new event at Sandcastle Club, which works with local and international DJs mostly specialised in Deep House and Techno music. Dining in the lounge area is very pleasant, and the long list of cocktails available at fair rates will certainly allow you to quench your thirst in style.
Opening Hours: Daily from 6pm until late
Location: 94/62 Moo 6, Haad Rin Beach Road, Ban Tai, Koh Phangan 84280, Thailand
Tel.: +66 (0)62 221 0304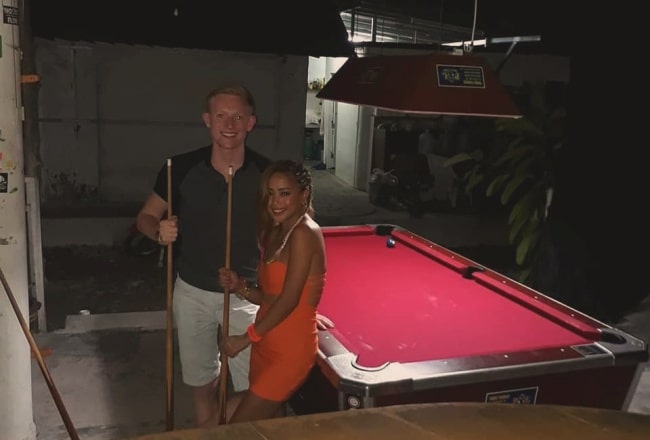 Pirates Bar
Pirates Bar is a pirate ship on the beachfront just north of Laem Son Lake in Sri Thanu. Made of wood, bamboo and thatch, it features different levels, including a terrace overlooking the sea that offers a great sundowner spot. Pirates Bar takes its pirate theme seriously, with its skull and bones flags flapping in the breeze all around the venue. The atmosphere is nevertheless pretty cool here. Featuring live music and a good list of cocktails at 150 baht, you can chill out or dance until late at this very agreeable seaside joint. Moon Set Parties are held here a few days before the full moon, so do not miss them if you're around.
Opening Hours: Daily from 4.30pm to 2am
Location: 81 Moo 8, Koh Phangan, Surat Thani 84280, Thailand
Tel.: +66 (0)99 284 0554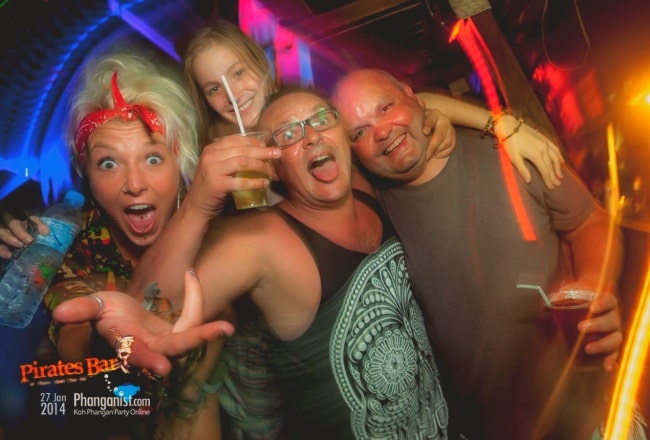 Rasta Baby
Rasta Baby is a bar and restaurant chain that can be found all around southern Thailand, from Patong to Koh Phayam to Koh Phangan, and in other locations. The green, yellow and red Rastafarian flags, the Bob Marley portraits and the triad chords played just off the beat at decent volume makes Rasta Baby the perfect place to chill out. Serving excellent Thai and international food, Rasta Baby is a friendly, unpretentious venue that exceeds the average expectations one could have for a reggae bar.
Opening Hours: Dailay from 10am to 2am
Location: 7/9 Moo 5, Thong Nai Pan Noi, Baan Tai, Koh Phangan, Surat Thani 84280, Thailand
Tel.: +66 (0)89 593 9410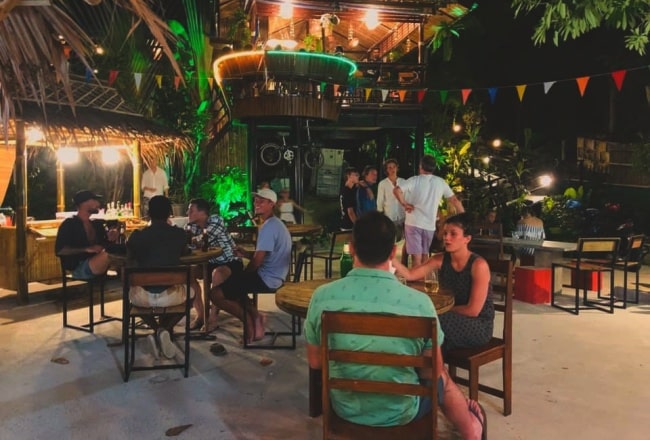 Ku Club
Ku Club is an open-air discotheque right on the powdery sand of Baan Tai Beach, a mere 10-minute drive south from Thong Sala. Part of The Beach Village – Hostel, it hosts a good list of international resident DJs who bring a different music style every night. The small size of the venue itself gives it an excellent vibe. Food and drinks, ping pong tables, very friendly staff and affordable prices make Ku Club one of the favourite venues to party in Koh Phangan.
Location: 100/5 Moo 1, Baan Tai, Koh Phangan, Surat Thani 84280, Thailand
Tel.: +66 (0)77 238 855