Terrace and walkway towards the temple
A well preserved 30 meters long terrace with seven headed Naga balustrades lies East of the temple. At the front of the terrace were two guardian lions, of which one is left.
From the temple a walkway leads towards the gopura, the entrance gate to the temple. Around halfway the walkway is a small wooden structure containing a seated Buddha image set on a pediment out of stone blocks. The large stone Buddha in the "Calling the Earth to Witness" mudra is of a more recent date.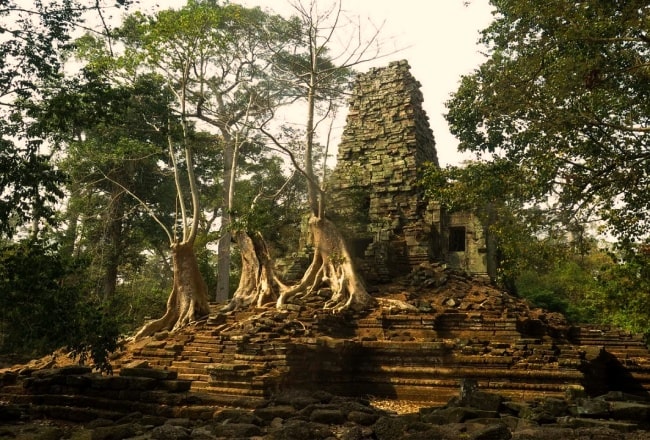 Gopura entrance building
The Preah Palilay sanctuary is enclosed by a laterite wall 50 meters long and 50 meters wide. The Eastern wall contains a gopura entrance building with a cruciform floor plan and a single tower in the center. The large central entrance is flanked by two smaller entrance doors.
The gopura's pediments contain a seated Buddha, a reclining Buddha and depictions of several Buddhist stories, including the story of the Buddha subduing the elephant Nalagiri, depicted in two scenes. The first sculpture shows the raging elephant attacking the Buddha, the second shows the elephant subdued and kneeling down in front of the Buddha. Another sculpture shows a scene from the Vessantara Jataka, where the Buddha gives away his two children, thereby displaying the virtue of charity.
Further sculptures show depictions of Indra on the three headed elephant Airavata, and Varuna, the Hindu God of the sky, water and the oceans. The gopura building was restored using the anastylosis method in the 1930's.
The chimney tower like sanctuary
Behind the gopura is the temple on top of a 6 meter high base. A stairway on all four sides leads to the top. A few large trees in front of the tower have been cut down in 2009 to protect it from the growing tree roots.
The sandstone monument shaped like a large chimney tower has an entrance and vestibule on each of its four sides. Its pediments are decorated with sculpted depictions of Buddhist scenes. The inside of the temple is filled with rubble and large stones and not easily accessible.
Below is the glimpse of Preah Palilay in 360o viewing: