Kyaukse elephant dance festival is an annual major traditional dance festival in Myanmar. It is held is on the day before full moon day of the Burmese lunar month of Thadingyut and the full moon day in Kyaukse, near Mandalay. The festival has been celebrated every year since Bagan period and also grown in popularity among the growing number of foreign tourists visiting Myanmar.
The colourful competition sees teams and individuals wearing elephant costumes perform various traditional dances.
Similar to Chinese's dragon dance, the Kyaukse elephant dance is run by two men dancing inside the colorful paper and bamboo-decorated elephant structure, trying to match the dance beat and the drum rhythm. The dance pays homage to the Shwe Tha Lyaung pagoda by circling 3 times at the foot of the pagoda's slope. This tradition aims to increase and strengthen the people's unity. The magnificent elephants take a few months to create. People come together to play their part in preparing this piece of art.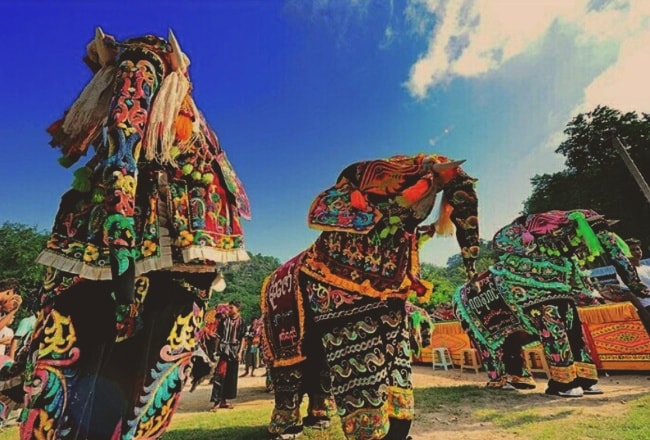 These spectacular creations take months to prepare, constructed from a bamboo frame covered in colourful cloth, paper, and foil. The costumes are further decorated in glitter, gold foil, satin, ribbons, and glass gems to create a true work of art.
The festival lasts all day and includes both a parade and a dance competition. The day starts with a parade around the marketplace, with the elephants circling the market three times so that everyone can get a good look at the beautiful artwork. The competition begins in the morning and is judged by prominent local officials. The elephants are judged on various details including the precision and harmony of the dancing, the teamwork of the dancers, the construction of the elephant, and the music and singing involved.
Check the below Youtube video for more idea of What is Kyaukse Elephant Dance Festival.