A spectacular sight to behold, Beng Mealea, located about 68km northeast of Siem Reap, is one of the most mysterious temples at Angkor, as nature has well and truly run riot. Exploring this Titanic of temples, built to the same floor plan as Angkor Wat, is the ultimate Indiana Jones experience. Built in the 12th century under Suryavarman II, Beng Mealea is enclosed by a massive moat measuring 1.2km by 900m.
The temple used to be utterly consumed by jungle, but some of the dense foliage has been cut back and cleaned up in recent years. Entering from the south, visitors wend their way over piles of finely chiselled sandstone blocks, through long, dark chambers and between hanging vines.
The central tower has completely collapsed, but hidden away among the rubble and foliage are several impressive carvings, including a small but striking rendition of the Churning of the Ocean of Milk, as well as a well-preserved library in the northeastern quadrant. The temple is a special place and it is worth taking the time to explore it thoroughly.
The large wooden walkway to and around the centre was originally constructed for the filming of Jean-Jacques Annaud's Two Brothers (2004), set in 1920s French Indochina and starring two tiger cubs.
Beng Mealea has a large baray to the east and some atmospheric satellite temples such as Prasat Chrey. Apsara Authority has plans to reflood the ancient baray, as they did earlier with Jayatataka (Northern Baray), surrounding Neak Poan temple.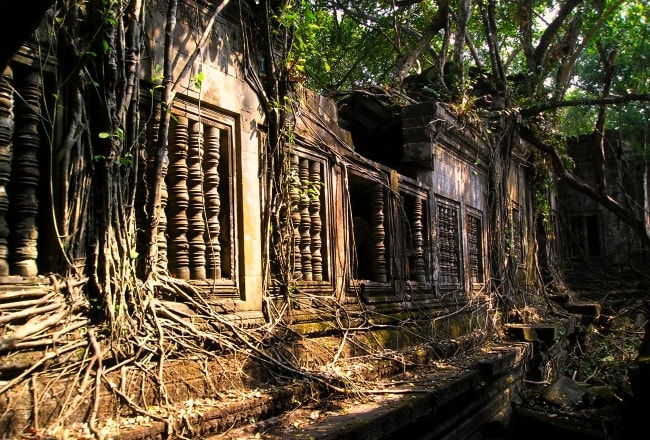 There are several stop-and-dip food stalls (dishes US$2 to US$4) opposite the temple entrance. Run by friendly, English-speaking Sreymom, the Sreymom Beng Mealea Homestay is just a short walk away from Beng Mealea. The overnight rates include all home-cooked meals. It is also possible to prearrange lunch here, even if you don't stay overnight.
It costs US$5 to visit Beng Mealea and there are additional small charges for transport, so make sure you work out in advance with the driver or guide who is paying for these. Beng Mealea is about 40km east of Bayon (as the crow flies) and 6.5km southeast of Phnom Kulen. By road it is about 68km (one hour by car, longer by moto or remork) from Siem Reap.
The shortest route is via the junction town of Dam Dek, located on NH6 about 37km from Siem Reap in the direction of Phnom Penh. Turn north immediately after the market and continue on this road for 31km. The entrance to the temple lies just beyond the left-hand turn to Koh Ker. Allow a half day to visit, including the journey time from Siem Reap or combine it with Koh Ker in a long day trip best undertaken by car or 4WD.
Beng Mealea is at the centre of an ancient Angkorian road connecting Angkor Thom and Preah Khan (Prasat Bakan) in Preah Vihear Province, now evocatively numbered Rte 66. A small Angkorian bridge just west of Chau Srei Vibol temple is the only remaining trace of the old Angkorian road between Beng Mealea and Angkor Thom; between Beng Mealea and Preah Khan there are at least 10 bridges abandoned in the forest. This is a way for extreme adventurers to get to Preah Khan temple, but do not undertake this journey lightly.
Below is the glimpse of Beng Mealea Temple in 360o viewing: