Prasat Kravan is not as spectacular as other Khmer monuments, but well worth a stop for a visit when driving along the Grand Circuit the Small Circuit tours, both of them lead to Prasat Kravan. It is located about 3 km east of Angkor Wat. The modern name "Kravan" or "Kravanh", pronounced "krauvan" or "krouvan", means cardamom. It refers to a cardamon tree that stood here. The original Sanskrit name of the sanctuary is unknown.
Prasat Kravan was a private temple. This means it was not founded by a king, but by a dignitary or priest. From the tenth century onwards, kings granted this privilege to Brahmins or other court officials. Prasat Kravan was consecrated in 921 by a nobleman called Mahidharavarman, who was a high official at the court of Harshavarman I (ca. 910-925).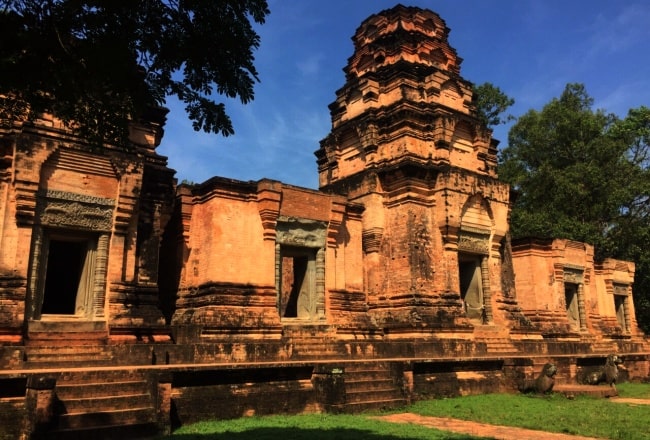 Harshavarman was the less powerful son of the very first king residing in Angkor, Yashovarman I. Harshavarman I's cousin was a local commander in Koh Ker who became more powerful than the kings of Angkor and defeated them and became their successor, but he continued to reside in Koh Ker.
It was during this period of Angkor's weakness that Prasat Kravan was built. It takes up elements of the style of Koh Ker, particularly those dynamics in sculptural illustrations the style of Koh Ker is famous for.
Prasat Kravan was cleaned from vegetation by French archaeologists in the 1930s. The two towers with superstructures were restored in the 1960s. Modern replacement bricks are labeled CA ("Conservation Angkor"). New research and restoration works began recently and are still in progress. They are supported by the G.A.C.P. (German Apsara Conservation Project).
The temple is oriented to the east and surrounded by a small moat. Its exterior is striking for its classical lines and symmetry. The central and the south tower have superstructures which take advantage of false perspective by simple means of diminishing tiers.
The sanctuary's interiors are remarkable for the large bas-relief depictions of Vishnu and Lakshmi that have been carved into the walls of reddish brick, connected by a vegetable compound. This type of sculptured artwork is rather common in Cham temples, but rare in known Khmer monuments.
Below is the glimpse of Prasat Kravan in 360o viewing: