"Prasat Bei" means "three towers". And that is exactly what you see here. Three brick Prasats share a single laterite platform. The towers, supposedly dedicated to the Hindu trinity Brahma, Shiva, Vishnu, stand in a north-south row, with sandstone doorways to the east and false doors on the other sides, as usual. The only complete tower is the central one, it contained a Lingam, the phallus symbolizing Shiva's power. The lintels of the central and the southern towers are good examples of typical Bakheng-style stone carvings. They depict Indra on his three-headed elephant Airavata. The lintel of the north tower is unfinished and allows studying the carving techniques.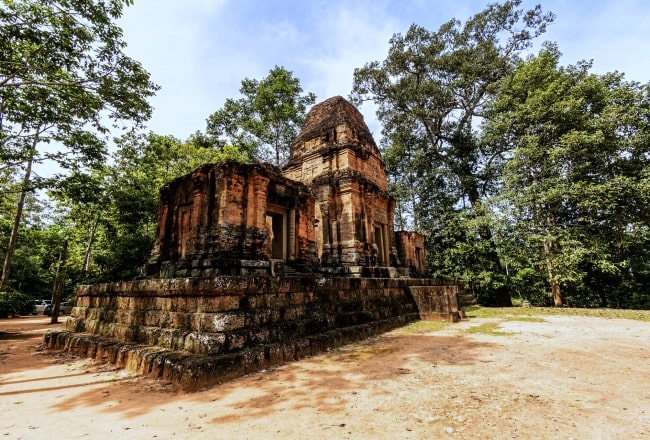 There are remains of a small shrine in the front of Prasat Bei. A sandstone door frame still stands upright, and a Lingam is placed at the centre. Balusters and lintels have beautiful carvings. It is supposed to be a kind of entrance of Prasat Bei. This structure and the ruined Prasat further west (which is next to the main road and very close to the famous Angkor Thom South Gate) are sometimes counted as a separate temple complex called Thma Bay Kaek. There is a kneeling bull statue called Nandi in front of the Prasat's remnants. In this Prasat, a hidden gold relic treasure was discovered, consisting of five gold leaves, one bearing the image of Shiva's bull Nandi. The small structure further north was dedicated to Shiva's wife Uma. Her torso still remains in situ.
Prasat Bei was one of the many temples once surrounding the Phnom Bakheng, the natural hill with Yashovarman's state temple, right in the centre of his capital Yashodharapura. Prasat Bei is sometimes ascribed to his son and second successor Ishanavarman II. But not much is known about this king, who obviously was a weak ruler. He was soon overcome by his cousin, the regional ruler of Koh Ker, who then became the king of the Khmer empire.
Ishanavarman II is only mentioned in an inscription in Tuol Ker from 968, as a ruler in the year 925/6. The inscription uses his posthumous name Paramarudraloka.
Prasat Bei is very easy to find. Just in front of Angkor Thom's South Gate you only have to walk a few hundred metres along the Angkor Thom city moat to the west. Baksei Chamkrong is close-by, too.